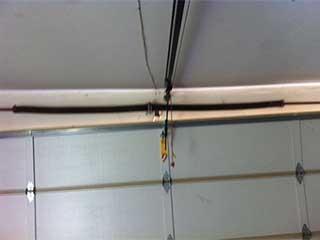 Broken garage door springs are very frustrating and can often make it so that homeowners are unable to enter or exit their garage. If you are having trouble with your door and think the problem may be because of a spring, it's important you call our experts for repairs right away. Be on the lookout for these common problems and then get the professional help you need.
Your Door Won't Open
Naturally, this scenario can cause a lot of panic. If one or more of your springs have broken, it's possible that your door will be unable to move much at all. Our teams can quickly come to you, replace this component, and make sure they are lubricated and fully functioning once more.
You Hear a Loud Bang
When door springs break, they generally cause a loud noise you won't be able to ignore. If there was no safety cable in place, the spring will be laying down on the floor. If it breaks when someone is around, it can be very dangerous and cause personal injury. This is why you should contact our experts if you notice any considerable wear. Prevention is always better than dealing with the component after it fully breaks.
The Top of the Door is Bent
A sure sign of a broken spring is when the opener tries to lift the door and actually bends the top section of the door. This generally occurs when the opener has been adjusted to have a high opening force, and will usually require a replacement of both the springs and the top section of the door. Our experts can take care of this type of work for you.
Our experts at Garage Door Repair Inglewood know all about the common problems you are likely to face when it comes to handling springs. If you think you have broken or worn springs on your hands, it's time to give us a call. We'll make sure your door works again soon and that your family is protected against potential hazards. Talk to us today!
You can also count on us for:
Garage Door Tune Up Services
Opener Sensor Replacement
Garage Door Cable Replacement
Roll Up Garage Door Services