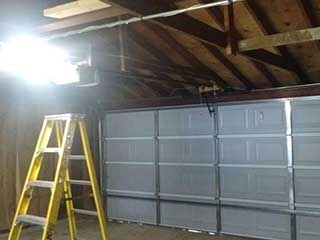 The best way to make sure that you've done everything you can to avoid as many potential accidents as possible is to have your garage door serviced on a regular basis. Our professional technicians specialize in reducing the amount of wear and tear these systems go through and extending their lifespan by a considerable amount.
As Few Issues As Possible
Things like broken springs, worn out rollers and bent tracks can seriously hinder the performance of your overhead door. More than that, in fact. They can lead to dangerous situations, like a door that got off track, or one that got stuck halfway. These problems will require a professional technician, and they will probably end up costing you more than what a simple maintenance procedure would have. Our scheduled service appointments will prevent all sorts of problems from occurring by effectively nipping them in the bud.
Minimizing The Risks
The reason your automatic garage door uses a pair of photoelectric sensors is so that the opener's operating system will be able to detect when an obstacle is blocking the door's path. This makes sure that the system doesn't close the door and hit somebody. As part of our regular maintenance routine, our technicians will inspect the safety sensors and make sure that their lenses aren't scratched or dirty and that their alignment is correct. Misaligned sensors will make your door unsafe to use, so making sure they are positioned properly (and realigning them as necessary) is absolutely crucial.
You Can Count On Us
Our scheduled maintenance service is a great way to reduce the different risks that garage door problems pose. We know you don't have time to start acquiring all the necessary skills and experience to perform the required adjustment tasks, but that's ok. That's what we're here for. Let our team at Garage Door Repair Inglewood take care of your door and increase its longevity in the process.
But wait, there's more! We also offer:
Garage Door Safety Inspections
Door Opener Troubleshooting Services
Oil Tempered Torsion Springs
New Garage Door Installation