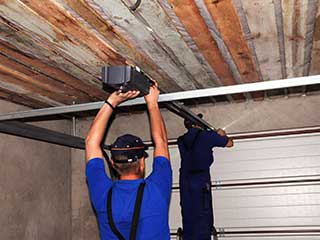 There are a lot of things that can go wrong with your garage door system, but you can rest assured that our professional technicians can take care of all of them. Regardless of how complex a problem may seem, you can always count on us for an affordable and efficient solution.
Damaged Track Repair
Your garage door track can develop bends and dents at certain sections, and these damages can end up causing your door to get stuck and potentially even collapse. Our team can straighten these issues out and make sure your system continues to operate smoothly and trouble free.
Broken Spring Replacement
The springs are arguably the most important parts of your automatic garage door. These components are in charge of supporting the weight of your door, and they can suffer from a lot of wear and tear damage as a result. When a spring breaks, it can potentially injure any person that's standing nearby, and trying to use your door under this condition can be just as dangerous, if not more. That's why, when something like this happens, you need to contact our company as soon as possible. We'll perform the necessary work without compromising anyone's safety.
Fixing a Malfunctioning Opener
Your garage door opener can suffer from a wide variety of issues. Anything from a fried circuit board to a worn out motor gear can cause this electro-mechanical unit to stop functioning properly. Luckily for you, you don't need to look too far to find all the help you need. Count on our team to repair your opener regardless of which of its different parts is causing the problem.
Contact Us Today
Our experts at Garage Door Repair Inglewood are always ready and willing to help every local homeowner out with their problems. You can count on us to get the job done quickly and safely. Call us today.
We Also Offer:
Garage Door Opener Track Maintenance
Genie & Liftmaster Opener Repairs
Emergency Broken Spring Replacement
Overhead Garage Door Services