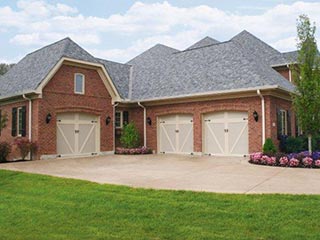 A system as complex as an automatic garage door can suffer from a variety of issues that can result from all sorts of different causes. Our team has been repairing these systems for many years now, and there's practically no problem we can't solve. We consider ourselves as the leading service provider in all of California. A quick browse through our websites and you'll definitely see why that is.
Replacing a Broken Spring
Whether you have regular extension coils or galvanized torsion springs installed, when one of these components breaks it can be extremely dangerous. The risk isn't over after the dust clears. Trying to operate your door before this component is replaced can be even more dangerous, as the panels can collapse. Our technicians can perform the spring replacement procedure without compromising anyone's safety.
Solving Opener Problems
The opener is the device that powers the movement of your door. It is essentially the engine, which means it is under a great deal of stress on a day to day basis. Being an electro-mechanical motor, the opener can suffer from a wide range of issues. Our specialists can help you when that happens. Whether it's a worn out motor gear or a fried section of the circuit board, you can always count on us to fix the problem quickly and efficiently. Of course, your automatic door isn't the only mechanism that uses a motor unit to operate. If you're looking for gate repair professionals near you, then we know just the team for the job.
Helping You Find Your Perfect Match
If you're in the market for a new overhead door system, then our team can guide you through the many different options and make sense of everything. We'll help you take into consideration such factors like insulation quality, material, horsepower output required and even curb appeal. The wide selection of new doors and openers that we have is bound to have several viable options that can fit your every need.
We're Here To Help
Remember, garage door problems can be very dangerous and should only be handled by professional technicians. That's what we're here for. Our experts at Garage Door Repair Inglewood can help you regardless of how complex of a problem you're dealing with.
Contact Us Today:
Emergency Services Available
Highly Skilled Technicians