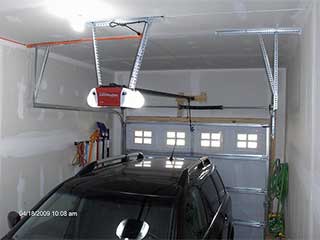 Our team is always willing to take the extra mile to keep our customers satisfied. Our prices are very competitive and the services we provide are of the highest quality. You can rely on our company for any opener related need you may have.
Choosing a New Unit
When it comes time for you to buy a new opener, there are many options to choose from, and things can get disorientating really fast. Our team can advise and consult you on the different brand name manufacturers, such as Genie and Chamberlain, that are known for being very reliable. We also work with Genie and their quality projects, as well as the excellent openers made by Marantec.
The Main Types
While each brand has its own unique models to offer you, all modern openers fit into one of three categories. It's good to understand the main differences between the two in order to know which type is more likely to be a great fit for your home. Screw-drive models are known for their minimal maintenance requirements, while Chain-drive units are often preferred for their affordability and strength, but also for their higher noise output. Belt-drive openers, on the other hand, are known for their smooth and silent operation. They are, however, also usually more expensive, but definitely worth it if you have a garage attached to a bedroom.
Regular Opener Maintenance
Not only can our team help you choose the best garage door opener for your home and install it to perfection, we can also offer you a series of regular service appointments, specifically designed to increase the lifespan and optimize the performance of your opener.
Contact Us Today
Whether you are looking for a new opener to buy, or are experiencing some type of trouble and need a professional technician's assistance, you can always count on our team for help. Call our experts at Garage Door Repair Inglewood today to get the best service around.
Need more? We also provide:
Part Replacement & Lubrication
New Opener Remotes & Clickers
Galvanized Torsion Spring Installation